Faculty Retreat, February 26, 2010 - A Great Success!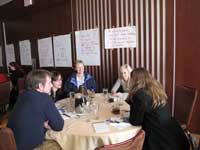 A total of 93 people attended the Faculty Retreat on Friday, February 26th at Entourage on American Lane. As a kick-off to the day, we did two icebreakers. The first was to share your teaching wisdom and the second was to share two things about yourself that participants would respond as "true" or "false". These activities got our event off to a great start, with lots of chatter and sharing. Below you will find the Teaching Wisdom results. Perhaps there is something there that strikes a chord within you.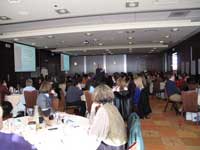 Ken Bain, award-winning author of What the Best College Teachers Do, presented his very interactive keynote in the morning. Participants were captivated by his words and ideas, which were presented in a down-to-earth manner. In the afternoon, Dr. Bain continued his interactive presentation by having groups and individuals work on fleshing out ideas they could use in their classroom. There was alot of sharing and discussion. The faculty and administrators who attended gave him a big "thumbs up".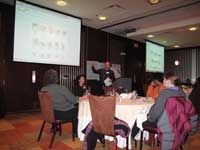 After Bain's presentation, four of our Harper Faculty colleagues present on their recent sabbatical experience. Presenters were Regina Rector, Biology; Pascuala Herrera, ADS; Randy Schietzelt, Biology and Kurt Hemmer, English. Please feel free to contact any of them to learn more.
Raffle prizes were given out throughout the day and included flash drives, copies of Ken Bain's book, a relaxation fountain, jewelry, Faculty dining room gift certificate, a stained glass piece, portable DVD players, a year's membership to the Wellness Center and free massages.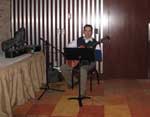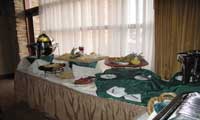 Joseph Wachter, Chemistry, provided some beautiful background music on his acoustic guitar during the after-party, while we enjoyed appetizers and drinks.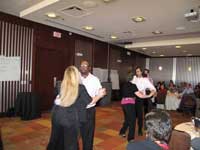 And then there were the dancers who performed a bachata dance right after lunch and got the crowd on their feet!
All in all it was a great event with very positive feedback from attendees.
If you would like to read the Teaching Wisdom, please click on this link
To see a summary of the Retreat Evaluation, please click on this link
Need help with instructional technology? CII can help.